News
New book
LIFE AFTER DEATH AS A PATH TO A NEW LIFE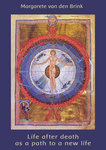 e-book
By Margarete van den Brink
This e-book is a FREE DOWNLOAD. See under Books.
More and more people are becoming conscious of the fact that our human existence continues after death. But in what way?
This booklet describes the journey of the human being through life after death.
It is a process of letting go, of learning and of gaining insights and intentions for a next life.
Anyone who reads about this journey will gain courage and strength!
---
New book
WHAT HAPPENS WHEN WE DIE ?
Our journey in the afterlife
By Margarete van den Brink and Hans Stolp
Is there truly life beyond death? What is the world beyond death really like and what tasks await us there?
Can the living stay connected with, or even help, their loved ones who have passed on? Why is love and wisdom gained in life on earth so important in the afterlife?
For more information see BOOKS

---
From Old Thinking to New Thinking
We human beings find ourselves at a transformational turning point in our evolution.
An old world is coming to its end. A new one is being born.
More about this worldwide turning point in the new article
From Old Thinking to New Thinking
See Articles >> The transition to a new era.
---